Easy, weeknight meals can get boring and mundane. Sometimes it feels like we eat the same things over and over again every week. I usually turn to Pinterest for recipe inspiration, but even then you have to know what type of food or recipe you're looking for or risk getting sucked into Pinterest never-never land. One convenience food I love is tortellini. It cooks quickly and is very versatile. To show you just how versatile and fun you can make it, I have made this list of 10 simple tortellini recipes.
#1 One-Pot Creamy Meatball Tortellini
Well, I couldn't have a recipe roundup without including my own recipe! My One-Pot Creamy Meatball Tortellini has only 6 ingredients, which makes it ideal to add to your "go-to" recipes for busy weeknights.
#2 20 Minute Tortellini Pasta Carbonara
Pasta Carbonara in 20 minutes! Creamy pasta with bacon and cheese, yum! This 20 Minute Tortellini Pasta Carbonara from The Chunky Chef is even elegant enough to serve to dinner guests.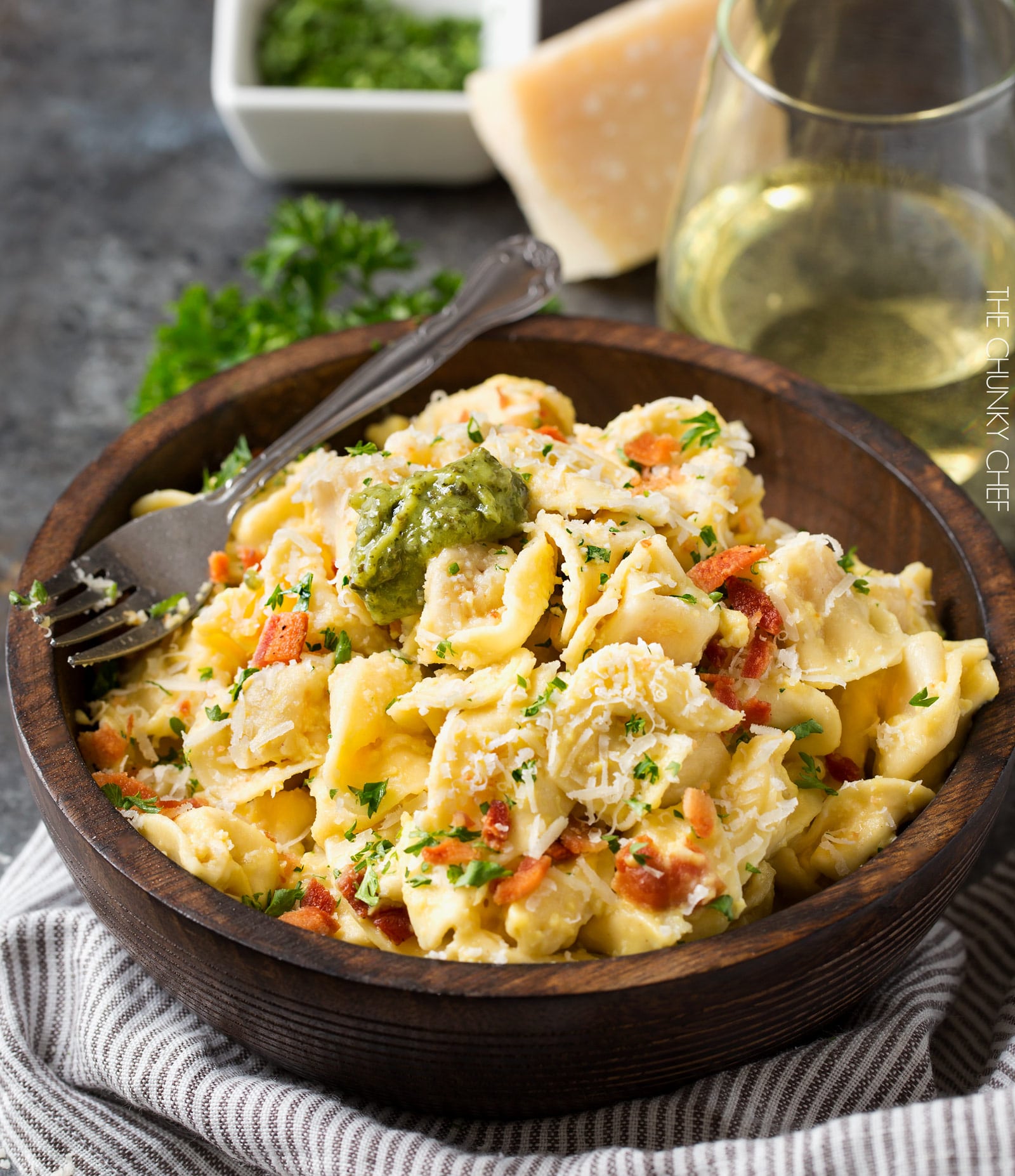 #3 Southwest Tortellini Pasta Salad
Tastes Better from Scratch has this amazing Southwest Tortellini Pasta Salad that is so versatile. You can serve it as a salad, a side or add chicken and make it an entree. It is easy to make and loaded with healthy veggies (I have to omit the onions and peppers for my picky eaters).
#4 3o Minute Lemon Chicken Tortellini Soup
Fall is just around the corner and this 30 Minute Lemon Chicken Tortellini Soup from Carlsbad Cravings is a great, quick soup recipe to have on hand when the weather grows cooler. Lemon and herbs give this soup a refreshing, bold flavor.
#5 One Pot Buffalo Chicken Tortellini
Buffalo sauce, chicken and tortellini, why didn't I think of that sooner?!? One Pot Buffalo Chicken Tortellini from the Salty Marshmallow would be delicious for Sunday Night Football or a quick weeknight meal.
#6 Summer Corn, Tomato, and Tortellini Pasta Salad
Texas summers last until late September. So, there is still plenty of time to enjoy a nice pasta salad. Great for lunch or as a dinner side, this Summer Corn, Tomato, and Tortellini Pasta salad from Celebrating Sweets is simple and refreshing.
#7 Parmesan Crusted Tortellini Bites
An unconventional twist on tortellini, Parmesan Crusted Tortellini Bites from The Cozy Cook, will be a great addition to your next party. I plan to cook some up on a Sunday afternoon to pack in my kids' and husband's lunches for the week.
#8 Creamy Tortellini and Sausage
Here is another one-pot recipe. Creamy Tortellini and Sausage from Yellow Bliss Road uses savory smoked sausage with the cheese tortellini for a delicious, quick weeknight meal! Add in spinach if your family is more adventurous or substitute tomato sauce for the crushed tomatoes for less adventurous families.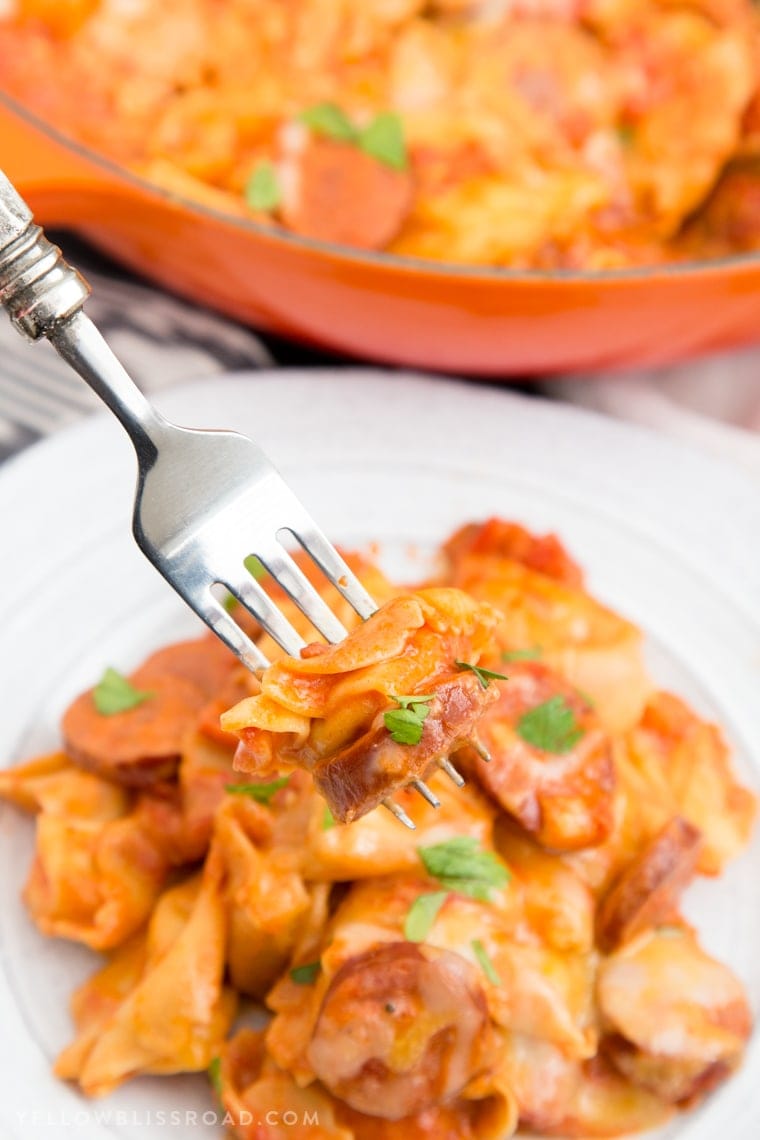 #9 Bacon Ranch Tortellini Salad
Bacon Ranch Tortellini Salad from The Two Bite Club pairs great with your standard cookout fare. Try it as a side with Burgers or Hot dogs. Make up a batch to take to work for lunch. Very few ingredients makes it really easy to whip up!
#10 Baked Pizza Tortellini
Combine pizza and tortellini for a scrumptious, kid-friendly meal your family will surely love. Seriously, Baked Pizza Tortellini from Southern Bite just speaks for itself. My kids practically licked the bowl when I made it for them.
Looking for some variety in your weeknight menu while keeping it quick and convenient can be challenging. Pre-made tortellini is a nice convenience food to add to your weeknights meals. It cooks up quickly  Try dressing up your tortellini using these 10 simple tortellini recipes.
Do you have an easy Tortellini recipe you love, share it with us?
P.S. Sharing is caring. Please consider sharing this post on your favorite social media site!